Murder High Reunion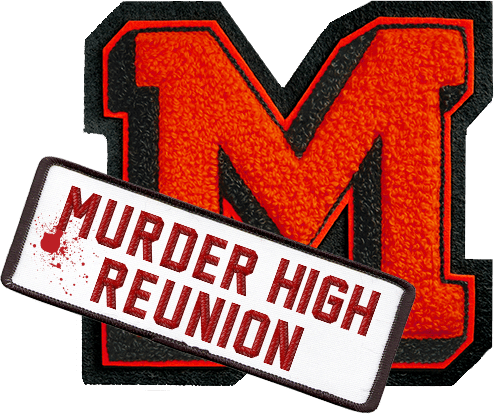 It's the James D. Murder High
30 Year Reunion!
You've come a long way in the last thirty years and so have your classmates.
It's time  to reunite with your old friends (and enemies) to see what everyone's become.
Unfortunately for one of you…it is a murderer who is destined to strike.
Will it be the math team captain who is now a financial wizard with millions?
The valedictorian who refuses to let anyone top them? Ever.
Or possibly the class president who is now a U.S. presidential hopeful?
You'll have but one night to figure it out and bring the killer to justice.
Get ready for a night of mystery and mayhem intertwined with rivalries
from the past that spill over to the present. At Murder High, it's not only
what you were, but what you've become. And let's hope it's a survivor.
It will be a reunion you won't forget…


if you live to tell about it!
Download Mystery Intro
Guest Info
Guest Breakdown
For 20-80 guests: 7+ males, 8+ female, 5+ gender neutral role
For 15-20 guests: 7 males, 6-8 female,  2-5 gender neutral
For 10-15 guests: 4-5 males, 3-4 females, 3-6 gender neutral
For 8-12 guests: 4 males, 3-4 females, 1-4 gender neutral
* The upgrade is only able to upgrade the 15-20 guest version to the 20-80 guest version. The upgrade DOES NOT work with any other size of party.
For 20-80 guests: 7+ males, 8+ female, 5+ gender neutral role
For 15-20 guests: 7 males, 6-8 female,  2-5 gender neutral
For 10-15 guests: 4-5 males, 3-4 females, 3-6 gender neutral
For 8-12 guests: 4 males, 3-4 females, 1-4 gender neutral
Clean versions are void of references to extra-marital affairs, alcohol and/or illegal drugs. Teens and/or conservative groups often use clean versions for their mystery of choice.
* The upgrade is only able to upgrade the 15-20 guest version to the 20-80 guest version. The upgrade DOES NOT work with any other size of party.
The Cast
*Note that the cast listed below is provided only to give an idea of the types of roles available, and not presented in any order relevant to the plot. Not all cast members are included in every version.
Nick Nixon

The Class President

Nick led the class in 1985 and hopes to lead the country in 2012. Does this presidential candidate have too many skeletons in the closet?

Nancy Nixon

The Class Vice President

Nancy has always been known to stand by her man, but is she tired of always being put on the back burner…?

Joe Nebraska

The Jock

As the captain of the football, basketball and baseball team, Joe is a legend at Murder High and in his own mind. Joe has said he will do anything to become a legend at the reunion as well.

Natalie Nebraska

The Cheerleader

Popular and perfect, everyone loves her. Or so she thinks.

Pamela Abdul

The Pompom Captain

The queen of dance in high school, Pamela went on to great stardom in choreography. She is said to be back to spice things up, especially with her old rivals.

Mallory Majesty

The Prom Queen

With Mallory's wealth and good looks, she is accustomed to ALWAYS getting her way and she will make sure that the reunion is no different.
Mike Majesty

The Prom King

Cindy Crawfish

The Class Flirt

Judd Jenson

The Class Stud

Bobbie Bright

The Valedictorian

Molly Ringworm

The Drama Queen

Bailey Babble

The Class Gossip

Steve Spielson

Audio Visual Squad Leader

Randy Reporter

Newspaper Editor

Byron P. Keaton

The Math Team Captain

Myra S. Keaton

The Math Team Cheerleader

Terry Johnson

Hall Pass Monitor

Danny Drums

Marching Band

Sally Sax

Marching Band

B.A. Barricade

The Punk
Party Tips
Costumes

Things you might want to incorporate into your outfit for the whole eighties appeal!
Things you might want to incorporate into your outfit for the whole eighties appeal!
The "Off the shoulder" look– Inspired by Flashdance
Jellies sandals– They were plastic. They were noisy. They were hot.
Excercise gear and leg warmers– "Let's Get Physical" tore up the charts, and people everywhere tore off the layers in favour of spandex and sweatbands and got down with their bad selves.
Teased hair– Perm it, fluff it, hairspray it and then adorn it with chunky clips.
Tight acid or stonewashed jeans– Tight, and we mean tight jeans were all the rage, for both men and women. Bleach was splashed onto the denim to give it a patchy mixture of dark and light colour. Then they were ripped and safety pins added to give the desirable punk/rebel look à la Billy Idol. Throw a mullet on with those pants and you were hot stuff.
Shirts with a clip on the side– Oversized t-shirts were big. Clipping them up on one side with a chunky plastic clip (make it neon, even better) was even bigger.
Shoulder Pads– For reasons we'll never understand, the linebacker look was popular back in the day.
Don't Worry, Be Happy– printed on clothing

Find the perfect hairstyle to go with your outfit!

Asymmetrical, new wave haircut
The side ponytail– Bubblegum pop and valley girl mallrats popularized this 80s hairstyle to epic proportions.
The mullet– Mullets may have received a bad rap through the decades, but back in the day … oh … so dreamy.
The rat tail or duck tail
Decorations

Creating the perfect party space. Just a few suggestions for your totally 80s Reunion!
Just a few suggestions for your totally 80s Reunion!
Make a "Murder High Reunion" Banner. You can go simple and make it from inexpensive banner paper or posterboard or go all the way and have one printed up from a professional printer!
Stake out the front yard with campaign yard signs and posters for your favorite presidential candidate – Nick Nixon! (campaign yard signs, posters and button designs included with the mystery).
Create an outside archway to take pictures under, like a real high school event and then have everyone take their pictures under it. A perfect way to remember the evening. (See more under photo spot ideas.)
Find an old yearbook (preferably from 80s) and blow up pictures of what you all could have looked like. Make sure to get all the hairstyles and trends of the time (feathered hair, the mullet, etc). Don't forget to include picts of all the extra-cirriculars that are attending! (pictured below)

Use the website YearbookYourself.com and create yearbook pictures from the 80s of each of your guests. Hang them on the wall like a reunion. On the website, you can also print pictures of student life like the cheerleading squad, football team, etc.

Hang up old movie posters of some of the favorites– try to see if you can get all of the members of the brat pack! (Included with the mystery)
Have framed pictures of your favorite heart throbs (Kirk Cameron, Judd Nelson, Michael J. Fox, etc.)
Set up a breakdancing floors and encourage a "dance off" sometime in the night.
 Have eighties classic movies playing in the background (such as: Sixteen Candles, The Breakfast Club, Pretty in Pink, etc.)
Have some of your favorite 80s candy out— sweet tarts, wax lips, candy buttons, bottle caps, Big League chew, candy necklaces, Sprees, Pop Rocks, Fun Dip, etc. See more ideas in on the food suggestions.
Have a sunglasses table with all sorts of cheesy (inexpensive) 80s sunglasses. Make sure your guests take one home with them to remember the night by!
Find old cassette tapes and spray paint them.
Can use the tapes for just about anything

Centerpieces
Write people's name on them and use them as placeholders
string them and hang them for decoration
Make a light here (pictured below)

<< CHECK OUT THE TABS TO THE LEFT FOR MORE IDEAS <<
With this theme, it is easy to pick out the perfect color scheme – NEON!
To pull the color scheme through to your whole space consider the following:
When decorating a large area or to make an area look more intimate and festive, consider draping gossamer (or another inexpensive fabric) across the ceiling, walls, and edges of the tablecloth. Combine multiple, bright colors for a fabulous appearance.
Balloons, balloons, balloons!
A little spray paint can go a long, long way. Spray paint novelty items, vases, old wine bottles, etc. to help bring out the color theme and add inexpensive decoration to your party.
Have a tablecloth—whether plastic or fabric – the colors of your choice or go with an 80s black and white pattern (like above).
Accentuate your tablecloth with the alternative color by using paint pens or fabric paint to paint on decorative accents.
Have balloons and put glow sticks inside to give them the neon-y feel
Have a backdrop with neon paint splatters or spray paint on it
The more NEON, the better!
<< CHECK OUT THE TABS TO THE LEFT FOR MORE IDEAS <<
Give your guests an unforgettable souvenir by setting up a photo area where they can capture a picture of themselves in character.

 
BACKDROP IDEAS for your Reunion
Use your 80s neon speech bubble photo props – included with mystery.
Make a pyramid like the cheerleading squad.
Create a backdrop with a simple white sheet and splatters of neon paint or spray paint.
Find an 80s patterned fabric and hang it as a backdrop.
Have a "Murder High Reunion" banner to pose under.
Create an outside archway to take pictures under, like a real High School event.
 For a group picture, construct a pyramid, like the cheerleaders did in high school.
Have additional props for posing in pictures (crowns, tiaras, 80s sunglasses, neon boas, leg warmers, etc.)
A Few Suggestions:
Pick a place where there will be good lighting.
You can make it as elaborate or simple as you want.
Accessories and decorations can make the difference. Have some extra props on hand that your guests can pose with.
An easy way to create a background is to use a "scene setter". These affordable rolls of images transform your room instantly and make for a good backdrop to your picture.
Make sure there is enough room to fit everyone in to the frame.
For individual shots of guests, designate someone to be in charge of pictures as your guests arrive.
o Consider your character list and which character would fit the role of taking the picture. Ie, if you want mug shots, perhaps ask the investigator to be in charge of taking the pictures.
For a group picture, take one just before the introduction is read or right after the solution is read (before people may start heading out).
o These are two times when you can count on everyone being around and attentive.


<< CHECK OUT THE TABS TO THE LEFT FOR MORE IDEAS <<
Food & Music

Food for your friends!
 Whatever you serve, serve it with an 80s flare. Use the 80s glossary to help name your foods with a retro twist. Totally Tubular Pasta, Bodacious BBQ, Gnarly Barley (beer), Bad to the Bones (chicken wings), Nixon's Nachos, etc.
An added (awesome) touch, type the names into the 80s food name plates (included with mystery) and display alongside your dishes!
Drink Cups. Serve up your drinks in bright cups with your guests name on them (label designs included with mystery).


<< CHECK OUT THE TABS TO THE LEFT FOR MORE IDEAS <<

Three perfect cake ideas for your party!
Or, make some totally 80s cupcakes!


Designs included in mystery!
<< CHECK OUT THE TABS TO THE LEFT FOR MORE IDEAS <<


Choose from any of our suggestions to add to the ambience of your totally 80's party!
Here are a few of the different types of music poular in the eighties!
80's Pop Rock- From the first lyrics of "Video Killed the Radio Star", the advent of music videos on MTV in the 80's radically changed the music industry forever. Early eighties groups such as DEVO and Haircut 100 were early adopters of the medium, but pop stars such as Madonna and Michael Jackson later transformed the format into a huge business.
80's Heavy Metal– In the mid to late 80's Heavy Metal became the popular music genre. Artists such as Van Halen, Poison, Motley Crue, Cinderella, Quiet Riot and Guns and Roses got extensive 1980's radio airplay. "Hair Metal Bands", as they are affectionately called, scored top charting hits with the "power ballad" song formula. Nothing represents the decadence of the 80s more than the heavy metal bands signed from the LA Strip during that time. The song lyrics mostly embodied the "Sex, Drugs and Rock and Roll" mentality of the 80's.
House Roots In The 80's– The Hip Hop scene has it's roots in the 1980's and becomes a powerful musical and dance influence. Hip hop artists like Grandmaster Flash Kurtis Blow and N.W.A. bring Hip Hop to the forefront.
80's Hardcore Punk Movement– Out of opposition to the pop music of the 80's evolved the Hardcore Punk movement. This angry, politically charged genre included more social awareness in it's lyrics. The Dead Kennedys, Black Flag and Reagan Youth are popular bands of the 80s Harcore Punk scene.
Make a Mix – Here are the Top Billboard Hits of 1984 you may want to include. You can find these hits on iTunes and download songs individually without having to purchase a whole album.
For Free Music– Visit your local library for a number of compilations from the time.

Make your own mix for your guests to groove to!
Madonna – Borderline
The J. Geils Band – Freeze Frame
Culture Club – I'll Tumble 4 Ya
Cyndi Lauper – Girls Just Want to Have Fun
Tears for Fears – Everybody Wants to Rule the World
Devo – Whip It
Dexy's Midnight Runners – Come On Eileen
Starship – Sara
The Cars – Drive
Rick Astley – Never Gonna Give You Up
REO Speedwagon – Can't Fight This Feeling
Go-Go's – We Got the Beat
Toto – Rosanna
The Bangles – Manic Monday
Hall & Oates – Maneater
Gloria Estefan & Miami Sound Machine – Bad Boy
The Human League – Don't You Want Me
Prince – Little Red Corvette
Whispers – Rock Steady
The Pretenders – Back on the Chain Gang
<< CHECK OUT THE TABS TO THE LEFT FOR MORE IDEAS <<
Testimonials
Well it was our first murder mystery and we have to say that it was actually quite easy. We did not know what to expect but the Murder Mystery Kit came with everything and explained step by step how the night was to go and what to do before. We cleared out almost all of the furniture out of our place to make it look like a high school dance. We added party streamers, a mirror ball with lighting, balloons and other items to make it more dance like. The one thing we added/created was a high school yearbook wall. We simply took pics from the web from the 80's and photo shopped our guests into the photos(using photos based on the character they were). We added "voted most likely to", "Pet peeve" and "favorite things" to the pages. As far as the food goes each of our 17 guests brought an appetizer that was popular in the 80's. We also did a little candy bar that included candies that came out in the 80's. It was a great evening and we are looking forward to doing many more!
Murder High held a TOTALLY TUBULAR 25 year class reunion and everyone from class president, to prom queen, to math nerd came dressed to impress! Upon entry guests were welcomed with red and white décor to represent Murder High's school colors, while a play list of classic 80's hits played in the background. Classmates received a blast from the past as a slide show of old "yearbook photos" played on the television and favorite high school moments were relived (really the Yearbook Yourself website was used to crop guests faces into templates of 80's hairstyles and dress but shhhh). Overall the party was a KILLER success and guests have been talking about it ever since! Being that it was the first party of its kind that anyone had ever attended, guests were skeptical as to how it would all work when the idea was first posed. However, the package provided explicit easy to follow instructions, while still allowing room for creativity and the party went off without a hitch! Prizes were awarded for best dressed, best actor, and the four guests who solved the mystery. It was amazing how into character everyone got and there will certainly be more Night of Mystery parties to come!
Purchase Murder High Reunion
Murder High Reunion includes:
Mystery PDF that includes: A Host Guide, A Schedule of the Night, An Introduction, Designed Invitations, Background Information, Character Descriptions, Character Objective Sheets, Name Tags, Evidence, Accusation Sheets, a Detailed Solution, Award Certificates, and more!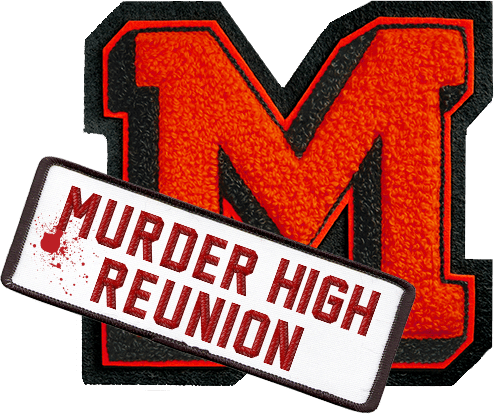 Download Intro